Good evening from Mankato! What a day! We went from heavy rain this morning to sunburnt arms this afternoon. Oh well! Let's get into it! You know, for some reason I envisioned Mike Zimmer-run Vikings' practices to be a bit more intense. It was a pretty low-key day for the most part. There were a few flashy plays (no Cordarelle Patterson, who was still out with a foot injury), but nothing spectacular for me to gloat about. None-the-less, here's what I took away from the afternoon's events.
Rookie Alert
-In our "Rookie of the Day" autograph giveaway contest (yes, it happened. Next time pay attention!), one lucky reader picked McKinnon to be the first to score on behalf of the offensive rookies. He picked correctly, and even though McKinnon didn't technically "score," he was the closest thing to it, making swift cuts and outrunning the defensive backs.
-Today was my first experience with the two rookie cornerbacks we drafted (Jabari Price and Kendall James). It wasn't on the field, but rather post-practice as I watched them talk to the fans for 15-20 minutes and take pictures. They spent the most time of any player out by the fans this afternoon. Although, yeah, I don't remember seeing them on the field.
TEDDY
If you read my first post, you'll remember I emphasized how vocal Teddy Bridgewater was. This was amped up during the practice with shells on. At first I thought to myself – from across the field – "Man is he loud." And after seeing him draw the left end offsides with his hard count on two possessions, I was sold. This will be one of his strengths that hopefully causes him to develop into a leader in the huddle. He will cause a lot of defenders to jump offsides.
FAIL of the Afternoon
Rodney Smith made a nice catch along the sidelines, and as he jogged back up the field he tossed the football back towards the coaching staff so that they could run another play. As he tossed the ball into the air, I saw Mike Remmers – #67 on the offensive line – duck his head, as if he was trying not to get hit by it. It reminded me of something out of a high school gym dodge ball game.
Overheard at Vikings Training Camp
This afternoon's session had seating further away from the field. But, that didn't cause me to miss any of the coaches quotes. There was plenty of screaming to go around:
"Catch…. Get vertical," wide receiver's coach George Stewart demanded during drills.
"You gotta talk. You gotta talk. You gotta talk," defensive back's coach Jerry Gray kept screaming out during 11-on-11.
"Kansas." — Christian Ponder (I assume where he's planning on being traded to?)
"Come alive out there," Running Backs coach Kirby Wilson said to the RBs.
"Cover your f*cking receiver," Head Coach Mike Zimmer said in anger at the cornerbacks as Jarius Wright made a cut to get open.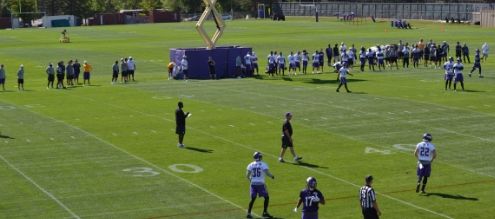 Purple Jesus
AP showed up in 11-on-11 drills. After dropping a pass out of the back field, he knew he needed to step up and prove the critics wrong. The play of the day and the one that caused the crowd to cheer the loudest was during the 11-on-11 when the coach called out 3rd and 7. Cassel stepped back as the guards pulled. They set up a perfect screen pass for AP. Peterson then made a few cuts only an MVP could make and he was gone down the sidelines and into the endzone. Even though there was no tackling today, he would have slipped past the defenders and scored. You forget just how GOOD he is – still!
Noticeables
-Marcus Sherels is going to make this team. I made a joke about it earlier on Twitter. Yes, he's good for punt returns. But, he actually surprised me today and deflected two passes.
-Of the three quarterbacks, Teddy gets the ball out faster than the rest.
-Jerome Simpson can out circus-catch anybody. He did a little leprechaun leap (just for fun), and also made a catch having to turn his body 360 around to make a play on it.
-This is overstated, but is wroth the note; Adam Thielan is another one that I can see making the team as a 5th wide out. He continues to make difficult catches, including a deflected ball as he was falling towards the grass.
-Jamarcus Sanford and Kurt Coleman took most of the 2nd team reps, leaving Mistral Raymond on the 3rd squad. Interesting lineup…
-Zimmer has the strong safety playing up much closer to the line. This defensive scheme will be interesting. On most of the 11-on-11 drills today, Blanton would run up towards the line and cover the tight end, leaving Harrison Smith to cover the middle.
Optimism
I finally saw what I've been waiting to see out of the Vikings' offense: Chemistry between a quarterback and wide receiver. You saw streaks of it last year, but I can now see this developing into something magical. For some reason, Matt Cassel and Greg Jennings connect. And today they connected for several pass-catches. The most beautiful one was when Matt threaded the ball between two defenders right into Greg Jennings' hands. This chemistry will only continue to grow as the weeks go on.
Looking Ahead
I hope you enjoyed today's contests/recaps! It's always tough transitioning on the first day. But, tomorrow should go much more smoothly with more contests, tidbits and fun facts for your Sunday Funday!
Again, thanks for the read and make sure to follow me on Twitter for live updates tomorrow morning for walk-through and tomorrow afternoon for practice, at @Cbrusoewriter.